Bespoke Wedding Stationery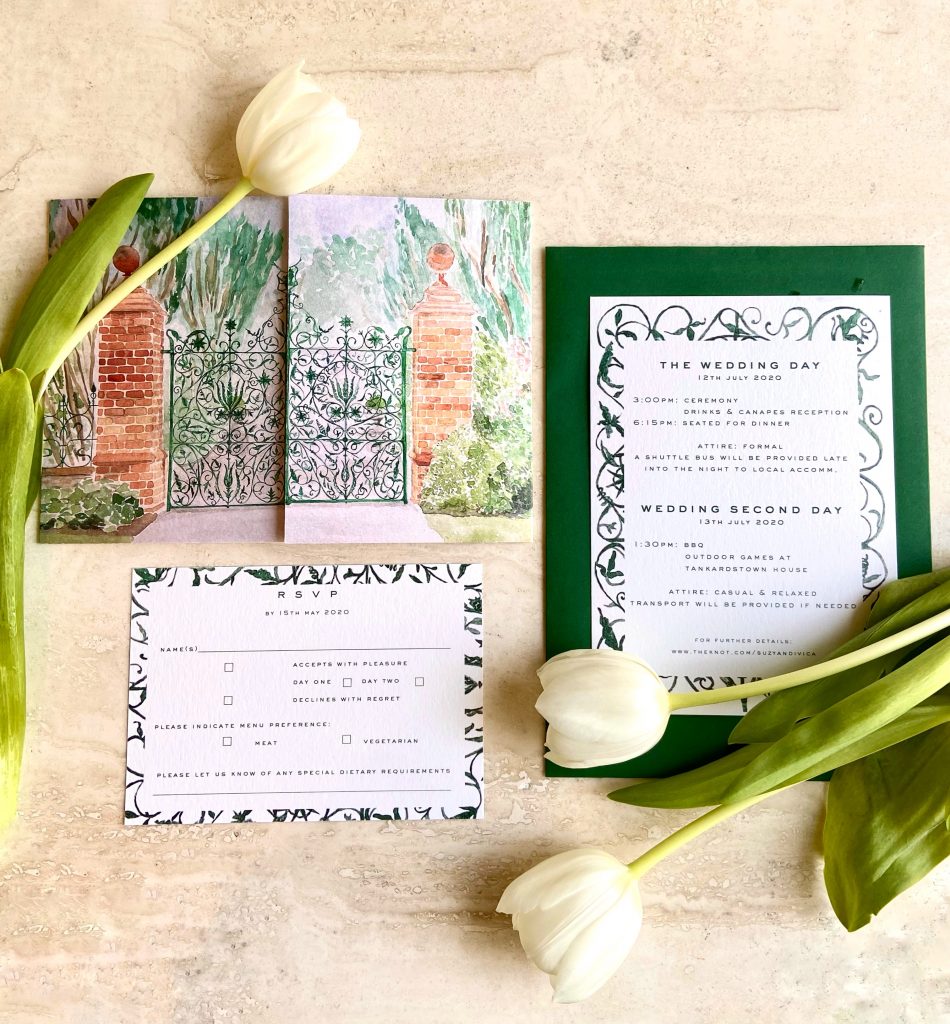 Set the tone for
your perfect day!
Sophie & Nick's Garden Wedding
A delicate watercolour painting of Sophie's family home was used for the front of the invitation. A few branches of the willow trees from both sides of the house were brought through the information card and rsvp to tie them all together. We brought the same leafy theme through the menus, table names and place names to marry the suite together.
Suzy & Ivica's Walled Garden Wedding
Suzy & Ivica married in Tankardstown House's beautiful walled garden. They loved the antique garden gates, so I set about creating an invitation that invited the guests into the walled garden ceremony. I hand painted the antique gates with watercolour and we printed them on a gatefold invitation to create the sensation of opening the gates and stepping into the garden. On the inside folds, I painted the view from the centre path of the garden to envelop the guest in the greenery and what they will see while witnessing the ceremony.
Myrna & Rory's Spring Wedding at Tankardstown House
Myrna & Rory opted for a delicate watercolour painting of their wedding venue 'Tankardstown House'. We kept the theme classic and simple and brought eucalyptus leaves through to their 'Particulars' Cards. To complete their wedding stationery suite, they went for a watercolour of Tankardstown House's Walled Garden Pedestrian Gate for their Thank you cards. We popped their guest names and addresses on the envelopes of both the invitations and thank you cards so they couldn't forget anyone.
Marianne & Andreas' Elegant & Moody Jazz Vibe Wedding
Marianne & Andreas wanted a smokey, moody jazz club feel to their invitations whilst keeping the lines clean and contemporary. Being an autumnal wedding, they went with warm colours of rust, terracotta, and a crisp clean white. They are printed on beautifully heavy card (540gsm) to give a luxurious feel and texture and were paired with a rust coloured envelope to tie it all together.
Muireann & Rebecca's Autumnal Wedding
Muireann & Rebecca's love story autumnal wedding invitations depict a timeline highlighting the big moments of their relationship. When they first met in late Spring, got engaged in their gorgeous redbrick house and got married in the Autumn. The flowers to the left are Spring flowers merging in Autumnal flowers on the right incorporating all the colours of the pride flag, unveiling their beautiful home in the centre with their cat in her favourite spot by the window.
Christine & Alan's Carnival Wedding
These invitations were hand-drawn and laser cut to create a ferris wheel. To add to the antiquated carnival theme I added hand drawn exotic animals and chose dramatic bright colours to set the tone for Christine & Alan's day.
Caoimhe & Cian's Sumptuous Twenties Wedding
When speaking to Caoimhe at first, she described their winter wedding plans, using jewel tones in her flowers and bridesmaid dresses, with a nod to the art-deco twenties era. We took a look at her beautiful engagement ring and used its shape to inspire the invitation and everything fell into place after that. We used a gold foil to deboss the decadently thick card, which left a subtle indent and texture.
Deirdre & Julian's Sri Lankan Inspired Wedding
This bespoke suite was created with a great deal of Sri Lankan influence, featuring lotus and jasmine flowers to represent the Juliyan's heritage and a watercolour of Deirdre's engagement ring on the wedding timeline, which has a 'Padaradscha' sapphire, meaning 'lotus blossom'. A beautiful nod to both Irish and Sri Lankan culture, through a watercolour painting of their venue 'Powerscourt Hotel' and the flowers.
Sorcha & Oisin's Wildflower Woodland Wedding
Sorcha & Oisin, who were originally set to be married in Ballymaloe House, came to me looking for something a bit different. as a relaxed pair, they really allowed me to get creative, a few things that were important to them however, were sustainability, and personalisation, specifically with a huge connection to the sea, with Oisin being from the west coast and Sorcha from the east. Unfortunately due to covid and several attempts at rescheduling the wedding, they chose to have an intimate outdoor gathering in the woodland of Killiney Hill. We chose to go with a handmade wildflower seeded paper that is fully recyclable. When planted in the ground, wildflowers grow up from the paper. I created a fun and lighthearted wedding timeline that really spoke to their personalities and a map that illustrated where they are from and their favourite places to swim.